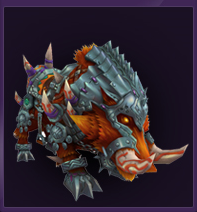 Picture of Turbulent Rampart
Is a mount that can be purchased from the Battlefield Gacha for 40,000 Battlefield Points (Red) or bought in the Item Mall (Turbulent) It resembles a boar and a bull.
Colors Available
Edit
Rampart is from the name of the god who resembled a bull. Rampart rivaled the Lydia Lion, Lydia.