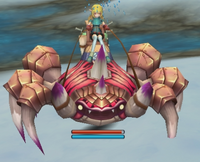 Image of Cruel Tiger Spider Crab
Cruel Tiger Spider Crab can be obtained by opening gift boxes with a low chance. Beside that, it also drops from Furious Blood Zombie with very low chance The movement speed will be increased by 30% when riding Cruel Tiger Spider Crab. It is supposed to last 7 days (although there MAY be multiple expiration lengths possible to obtain).

Due to a current bug (which has been reported, see the picture below involving Kaizoku), the item says 35% speed boost, but the spider still only gives 30%. The speed will NOT be increased, the 35% on the item will be changed to 30%. It is unknown if there is a bug involving expiration lengths, but it was announced (somewhere, source was lost) that expiry date was increased to 7 days.